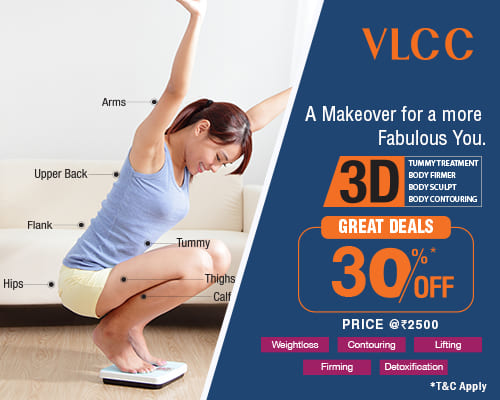 Anybody who has been on a mission to lose weight knows that losing weight becomes difficult after a point. No matter how hard you try, diets, adding rigorous exercises, more protein shakes and what not. This stage is called the plateau. This is the time when you need a little push to continue your weight loss journey and reach your desired goal. On that note, we are happy to announce that VLCC's 3d treatments are back again on popular demand! This revolutionary technology has been specially created by Doctors and experts at VLCC for body sculpting, firming, contouring and treatment. This is targeted treatment for specific body parts such as:
Arms
Upper Back
Flanks
Tummy
Hips
Thighs
Calf
3d for Body Toning
A Combination of advance technology ultra-cavitation, power dose serum with natural extracts and passive exercising of muscles.
Benefits Helps in fat loss, toning and firming of the local area.
This is prescribed to people who have the following condition:
High BMI and High fat percentage
Problem areas like tummy, hips, thighs, arms etc
Plateau stage in weight loss where weight loss slows down or stops despite best efforts
3d for Skin Tightening and Firming
A Combination of 3D Contour Power Dose serum and advance technology of Radiofrequency
Benefits Gives skin tightening, firming and also helps in fat loss
This is prescribed to people who have the following condition:
Loose skin
Sagging skin after losing a lot of weight
Requirement for Post natal body recovery
3d for Tummy Treatment
A Combination of advance technology like ultra-cavitation. 3D Power Dose Serum with natural extracts and Infra-red technology.
Benefits Fat loss, skin firming. Preventing of cellulite formation and improving water retention.
This is prescribed to people who have the following condition:
Central obesity with high waist circumference
High Fat percentage
Requirement of Postnatal body recovery
3d for Body Contouring
A Combination of 2 advance aesthetic technologies Radiofrequency and Ultra Cavitation with 3D Power Dose Body Contour Serum.
Benefits Reduction of cellulite, firming and smoothening of the skin, Spot reduction at problem areas.
This is prescribed to people who have the following condition:
Near normal BMI but high fat percentage
Loose or sagging skin — especially at the abdomen, hips, thighs and arms
Requirement of Post natal recovery
Puffiness, swelling and soft cellulite