Full Body Laser Still Cheaper Than Waxing:
Laser is the easiest and quickest way to bid goodbye to all the unwanted hair, which has destroyed more than 100 hours of your life, shaving, waxing and tweezing. You are just one step away from getting the smooth and silky skin of your dreams. With newer technology, these laser treatments have only advanced, becoming more effective and efficient, which is relatively pain free compared to other hair removal alternatives that require regular maintenance and time.
Ever calculated the amount of money we spend in salons for waxing? An International full body waxing service ranges between INR 2000 to 3000 per month, leading to a spending of about INR 24,000 to 36,000 every year. VLCC Full Body laser * is on the other hand a solution for couple of years and is cheaper than Waxing for just INR 49,999.
Other than the spending, waxing is a painful exercise. One can feel the hot wax burn the hair follicle and leave a post burn sensation after waxing. Hair removal is a necessary evil but necessarily doesn't have to be painful or evil at all. If you are skeptical or even apprehensive about the process, try our underarm laser hair removal for FREE.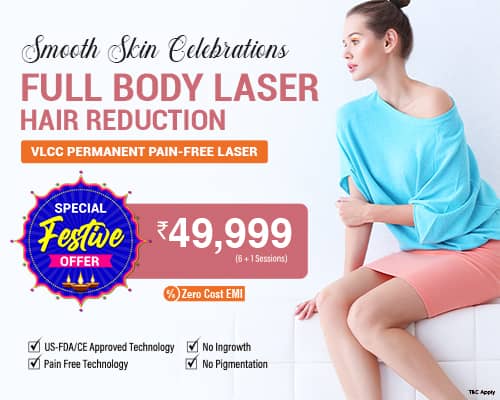 *Results may vary from person to person
Customer Testimonials
Laser service was good & painless. Staff was very helpful.
- By Dr. Bushra Saleem
Visited VLCC for beauty and laser services. Extremely happy with results. The laser sessions are very result oriented
- By Jyotee Kalantri