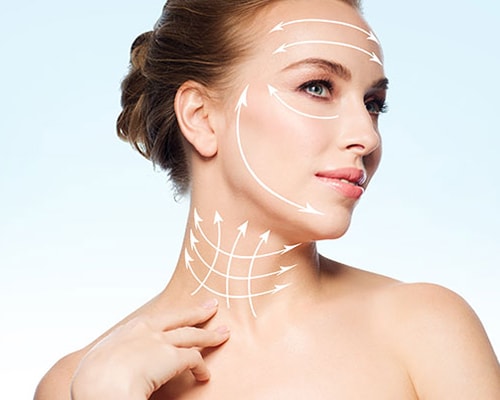 Ultherapy® is the only FDA-cleared, non-invasive procedure that lifts and tightens the neck, chin and brow, and improves lines and wrinkles on the chest. Ultherapy uses time-tested ultrasound energy to lift and tighten the skin naturally—without surgery or downtime. It gives a Non-invasive Lift and is the only non-invasive procedure FDA-cleared to lift skin on the neck, under the chin, eyebrows and the appearance of lines and wrinkles on the décolletage. Ultherapy can help you achieve a fresher look from your brow to your chest!
Ultherapy harnesses the power of ultrasound to transform the brow, chin, neck and chest. Ultrasound, of course, has been used throughout the medical field for more than 50 years—and Ultherapy has been established as effective in clinical studies in over a million treatments worldwide.
Ultherapy relies on ultrasound therapy to deliver its collagen-boosting treatment. It also incorporates traditional ultrasound imaging, which allows practitioners to see the layers of tissue they are treating, ensuring the treatment energy is delivered to where it will be most beneficial.
The Ultherapy® procedure stimulates collagen production by delivering focused ultrasound energy to the skin's foundational layer typically addressed in cosmetic surgery—without cutting or disrupting the surface of the skin.
Unlike lasers, radio frequency, surgery and other technologies, non-surgical Ultherapy bypasses the surface of the skin to deliver the right amount of ultrasound energy at the right depths and the right temperature. This energy triggers a natural response under the skin, jumpstarting the regenerative process that produces fresh, new collagen.
The length of the treatment will depend on the area being treated and your individual treatment plan. A face and neck procedure typically takes 60-90 minutes, while a chest treatment takes approximately 30 minutes.
Ultherapy is usually not painful, though tolerance levels vary from person to person. As the ultrasound energy is delivered, you will feel tiny amounts of energy being deposited to precise depths, indicating that the collagen-building process has been initiated. Comfort levels vary from person to person, but the sensation only lasts while the ultrasound energy is being delivered.