With over 3 decades of experience in beauty and wellness industry, VLCC make up professionals have not only kept up with trends but set them all across. With hundreds of experts spread across the horizon, our bridal make up skills are well sought after. From regional make up to modern day make up trends, we've experts to up the dazzle quotient on your big day. We master in creating customized looks that are contemporary and yet have a touch of traditional.
VLCC Make-Up Experts specialize in creating authentic regional bridal looks magically adding finesse and class to each - be it the "Dazzling Delhi Bride" or a "Serene South Indian Bride". From a Christian bride to a Muslim bride, from a Hindu bride to a Sindhi bride, VLCC knows how to weave magic and help every bride turn a thousand heads.
Consult with an expert to get the best of make-up services. Pick and choose your make-up needs and we'll be there to spin magic on your Big Day.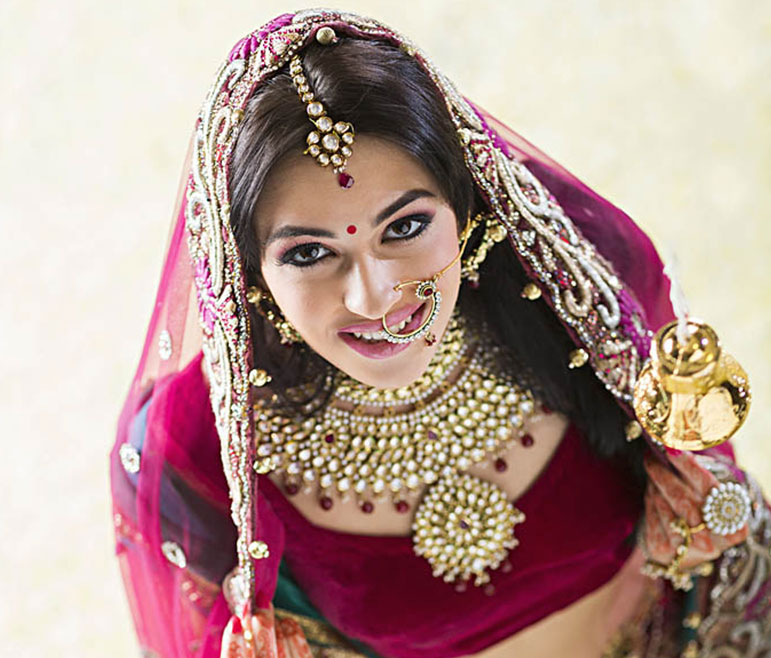 Punjabi
In this rich and dazzling look, the eyes are done up in bright shades like ruby red, mahogany with lots of gold and bronze shimmer. The lips have a dash of maroon with plenty of gloss. The hair is made up in an elegant French knot with lots of fresh flowers such as red roses, orchid or jasmine that will be customized to match the tone of the attire.
Gujarati
Stunning in its colourful splendor, this look uses bright makeup with a heavy base and ensures a chiseled look. The eyes are done up strikingly with a dark coloured eyeliner, false lashes, kohl and lots of shimmer on the eyelids. The lips are enhanced with a deep shade of colour while the hair is swept up into an updo with matching hair accessories.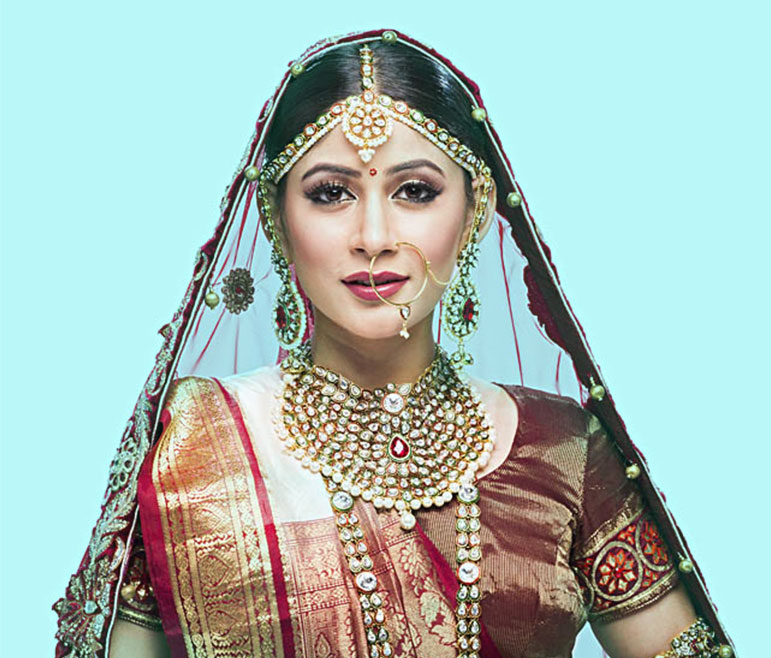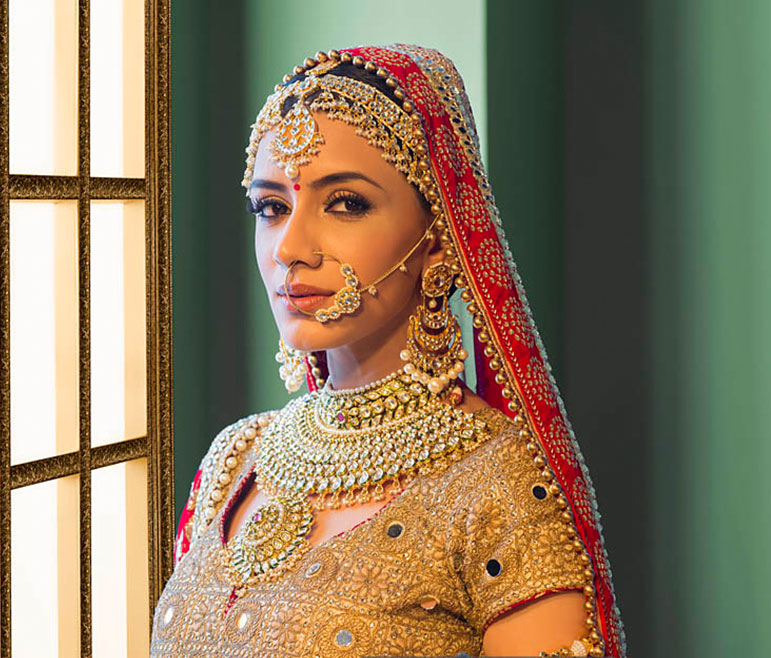 Rajasthani
This look enhances the wheatish skin tone of the region using attractive shades of bronze, rust and other warm, earthy tones. The eyes are highlighted with mattified gold and bronze, perfectly complimenting the shades of the fuchsia pink attire worn. The hair is styled back as per the length and volume to enhance the overall effect of elegance.
Muslim
Capturing the serene mood of an Islamic prayer, this look focuses on the eyes, lining them deep kohl, voluminizing the lashes and adding a sprinkle of shimmer for added effect. The lips are kept light with gloss. The hair may be styled in an elegant French roll, an intricate plait adorned with flowers or as an eye catching upstyle.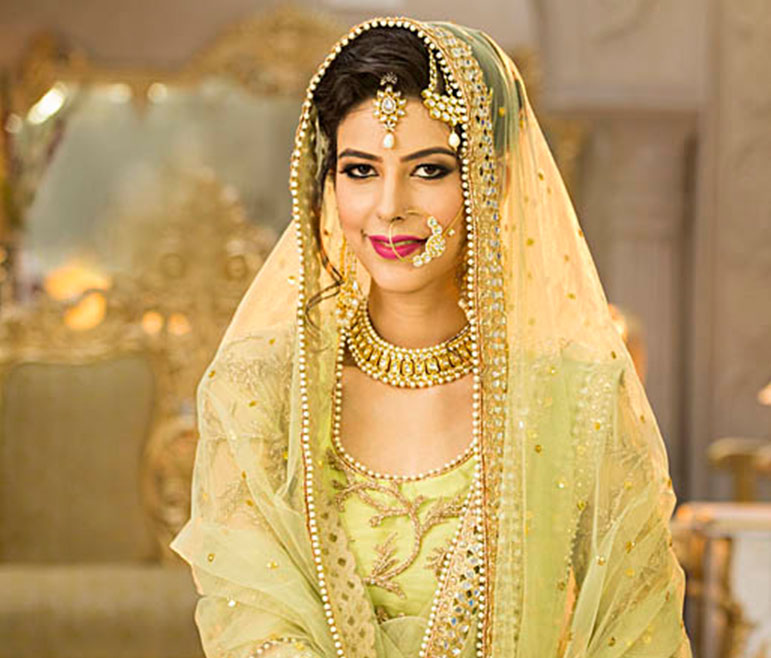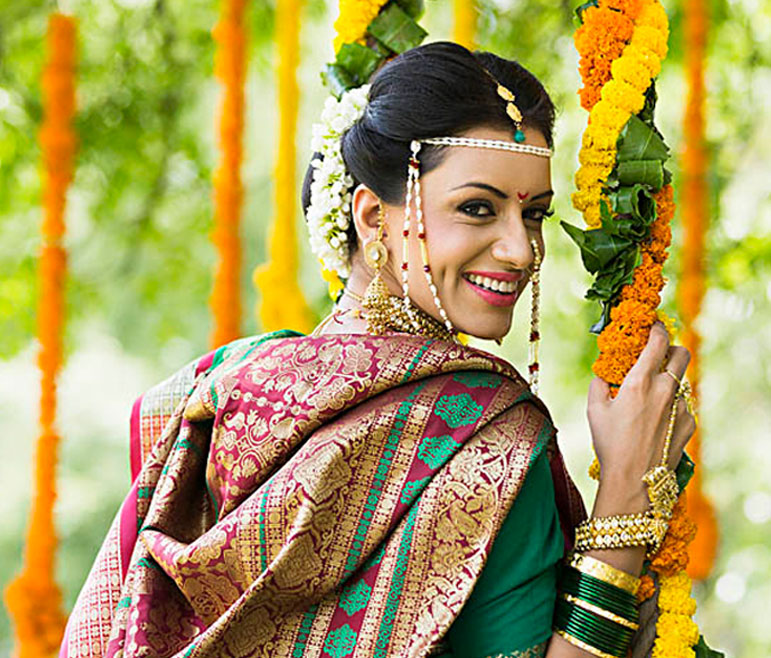 Marathi
The traditional Maharashtrian look is brought about with a base eye shadow in neutral shades that can match all the 5 sari change that occur during the ceremonies. Dark kohl and deeply coloured lips are enhanced with a hint of bronze and gold. The hair is done up in a long plait or a bun covered throughout with a trail of sweet smelling mogras.